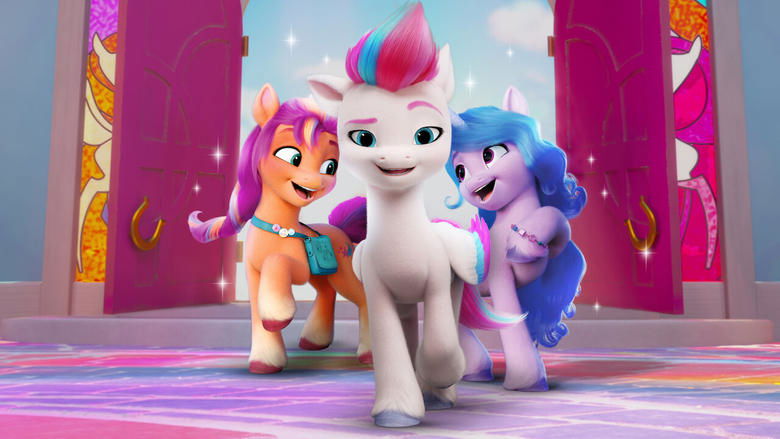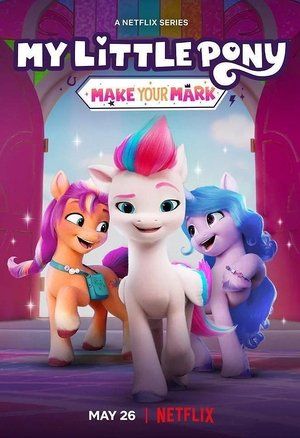 Next Episode of
My Little Pony: Make Your Mark
Show Runners have not confirmed the next season yet.
Last Episode Aired on September 18th, 2023
Videos & Trailers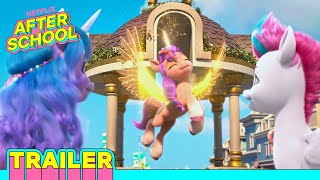 Trailer | My Little Pony: Make Your Mark Chapter 2 | Netflix After School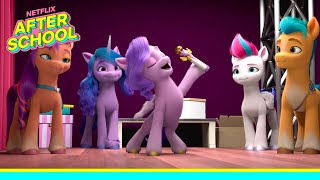 My Little Pony: Make Your Mark | Official Trailer | Netflix After School
About the Series
"My Little Pony: Make Your Mark" is an English, Adventure-Children-Family web series by Netflix. The show first premiered on September 22nd, 2021. The show was created by Gillian M. Berrow.
Created with a dazzling 3D CG animation style evocative of the recent film, the series will follow the Mane 5 on a journey of self-discovery told through action-packed, hilarious, and heartfelt stories.
Previous Episodes
Season 1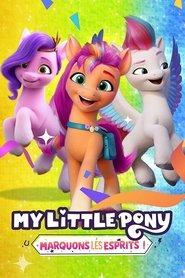 Music and magic return as the ponies learn more about the power of their Cutie Marks. But a crafty villain is waiting in the wings with an evil plot!
Season One of My Little Pony: Make Your Mark premiered on September 26th, 2022. This season contains Eight episodes.
Season 1 Episodes
Season 2
The evil Opaline is on a mission to steal the ponies' Cutie Marks and become the most powerful Alicorn — unless the Mane 5 can stop her in time!
Season Two of My Little Pony: Make Your Mark premiered on June 5th, 2023. This season contains Seven episodes.
Season 2 Episodes
Season 3
Now that Opaline has captured Sparky's Dragonfire, the evil Alicorn is stronger than ever — and she won't stop until she has all the power of Equestria!
Season Three of My Little Pony: Make Your Mark premiered on September 18th, 2023. This season contains Six episodes.
Season 3 Episodes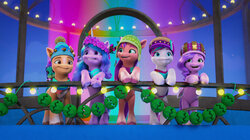 S3E1 - Winter Wishday
2022-11-21
It's Winter Wishday! Can the Mane 5 celebrate their holiday traditions and still make it back in time to exchange gifts under the Wishing Star for Sunny?
Season 4
Season 4 Episodes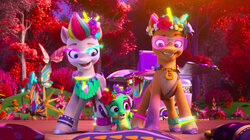 S4E1 - Bridlewoodstock
2023-06-06
Pipp wants to throw a music festival at the Lumi-Bloom fields, but Izzy warns her that loud noises might attract the troublemaking Troggles.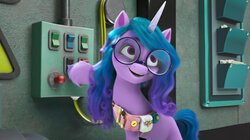 S4E2 - Top Remodel
2023-06-06
While the ponies decide how to renovate the abandoned Canterlogic building, Zipp attempts to decode a cryptic message from Twilight Sparkle.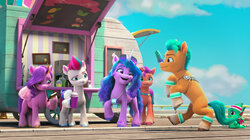 S4E3 - The Jinxie Games
2023-06-06
When Queen Haven postpones brunch, Zipp and Pipp suspect the worst. Hitch competes in Forest Critter Field Day but struggles to understand the rules.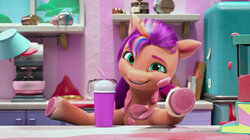 S4E4 - Sunny Side Up
2023-06-06
Opaline grounds Misty for failing to steal Dragonfire. Then, Hitch and Sunny kick off the grand opening of Canterlove Studios by hosting a cooking show.
S4E5 - The Manesquerade Ball
2023-06-06
It's the Zephyr Heights Manesquerade Ball and everypony's invited! When Misty sneaks out of Opaline's lair, the ponies bring her along to the party.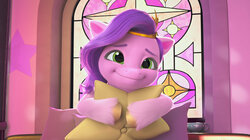 S4E6 - A Little Horse
2023-06-06
On the morning of her big announcement, Pipp gets sick. Can her four best friends nurse her back to health in time for her highly anticipated livestream?
S4E7 - Missing the Mark
2023-06-06
Sparky's in trouble! The Mane 5 must join forces with Misty to battle the evil Opaline and stop her from capturing Dragonfire — if they can trust Misty.
Season 5
Season 5 Episodes
S5E1 - Cutie Blossom Bash
2023-09-18
It's the annual Equestria Cutie Blossom Bash! But Misty feels nervous to be honored alongside all the other ponies who received their Cutie Marks.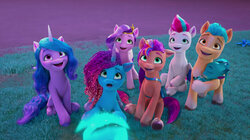 S5E2 - Family Trees Pt. 1
2023-09-18
Is Misty having bad dreams... or visions of the future? The group heads to Bridlewood to see if the Wishing Tree can offer any clues.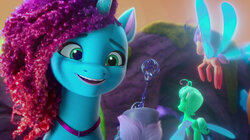 S5E3 - Family Trees Pt. 2
2023-09-18
According to the Breezies, Misty's key has the power to take her to the place she most wants to go. Could it help her find answers about her family?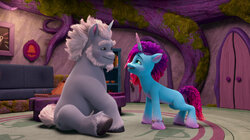 S5E4 - Father of the Bridlewood
2023-09-18
Misty is over the lunar moon to be reunited with her father. But as they reconnect, she realizes there's a lot she doesn't remember about her past.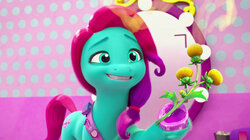 S5E5 - Mane Smelody
2023-09-18
Pipp stumbles upon a strange plant that can instantly shine a pony's hoof for a luxury, all-natural hooficure treatment. The only problem? It stinks!
S5E6 - Nightmare on Mane Street
2023-09-18
On Nightmare Night, the ponies busy themselves planning their favorite spooky traditions. But there's one scary guest they weren't expecting.